We hope you love the products we recommend! Just so you know, SpockTheDog may collect a share of sales or other compensation from the links on this page.
Common Name: Argentine Dogo
Other Common Names: Dogo Argentino, Argentinian Mastiff
Group: Mastiff
Origin or Range: Argentina
Relative Size: Larger Than Average
Average Lifespan: 11 years
Compatibility: Average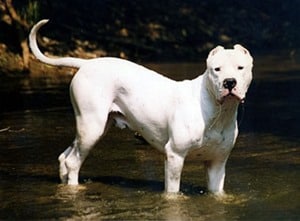 Known as good family dogs, the Argentine Dogos are very affectionate and possess a sharp intelligence and a well developed sense of humor. Their birth is place sometime in the 1920's and their purposes from the start were tracking and hunting. Later on, they were engaged in military and police work, as they were good players in obedience training and competitions.
The Argentine Dogos have some outstanding qualities such as loyalty and dependability, which only come as additions to their very friendly nature. Very trainable, the Dogos get along pretty well with children and other animals. They simply adore games and playing tricks and are excellent learners under a firm, but also gentle trainer's hand. Extremely versatile, no task is impossible for them to do.
The Argentine Dogos perceive the strangers mostly through their masters' eyes, so they can be very friendly to new people that were introduced to them, but also reserved and skeptical about strangers. Their nature doesn't default to aggressiveness, although they have all the physical means to be dangerous adversaries. Agile and very powerful, they will not engage in fights at their own initiative, but will surely respond if they are attached.
These dogs are large in size, reaching heights of up to 70 centimeters and weighing around 55 kilos at most. As with many other breeds, females are usually smaller than males. Their thick, short coats come usually only in white and makes it easy for them to bear extreme warm temperatures. The maturing process is a bit slower at this breed, the Dogos reaching full adult sizes only towards their third year of life.
The Argentine Dogos first appeared in the 1920's, as a result of doctor Martinez's work, which mixed ten breeds for this purpose: Dog of Cordoba which is now extinct, Bull Terrier, the Great Dane, Great Pyrenees, Boxer, Pointer, Spanish Mastiff, Irish Wolfhound, Bulldog and Dogue de Bordeaux. There is a lot of attention required for the Argentine Dogos, especially socialization and obedience training. Their short coats only require occasional care for dead hairs removal and only occasional bathing. The regular physical exercises are a must in order for these dogs to keep fit.