We hope you love the products we recommend! Just so you know, SpockTheDog may collect a share of sales or other compensation from the links on this page.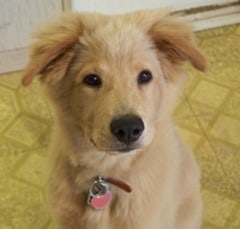 A Golden Retriever and Chow Chow mixed dog can be a great companion, loyal and easy to train, though it can have its own drawbacks, something that's true for all breeds.
Though a Golden Retriever Chow dog will be loyal and loving with its owners, they might require extra socialization and training.
You might get a dog that is as sensitive to the heat as the Chow Chow is, but with the hunting abilities of a Golden Retriever. Below you can read on a couple of things you should consider when you're looking to get a Chow Chow and Golden Retriever mix.
Quick – Pros & Cons of a Golden Chow
Golden Chows can make exceptional companions for both single people and families with children. This is because they come with a perfect mix of friendliness and protection instincts. And more than that, they're rarely aggressive.
Both Golden Retrievers and Chow Chows are intelligent breeds, which means you will have a clever, lovable, and energetic furry friend on your hands. You should keep in mind that they may not make the best watchdogs.
All you have to do is check everything you can about your new puppy's parents. This will help a great deal in handling his health problems and overly-excited temperament.
Pros
Medium level of intelligence
Excellent companion
Very friendly
Very protective
Decent hunter
Cons
Very active and not easy to train by an inexperienced dog owner

They crave attention and need to be kept inside with the family

They don't do well with small children

You can expect them to be a fur nightmare
Golden Chow Recommended Products
These are products that you could need for your new Golden Chow, or for other medium to large dogs in general. These are all high quality and recommended by those that bought them in the past.
Temperament of a Golden Chow Mix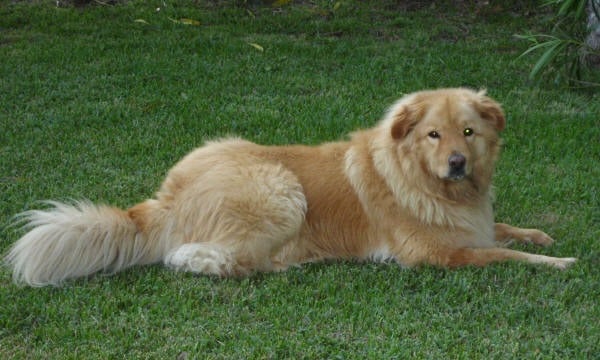 You might think that combining an extremely friendly breed, like the Golden Retriever, with an independent one, like the Chow Chow, is a recipe for disaster. But the bubbly personality of the Golden Chow will surprise you.
Most Golden Chows maintain a stern personality with strangers and a friendly and loving personality with the family. This mix is a pretty intelligent breed that can be very protective and is ideal for confident owners.
They might get aggressive when they feel like you or they are being threatened. But they can be obedient and will stand down when you're commanding them to do so.
Is a Golden Retriever & Chow Chow mix good with children?
Golden Chows can be decent nannies if they grow up with children since they were puppies. They have a playful nature and they will quickly learn to treat a child as gently as possible.
However, these dogs are much better suited for families with older children. Your kids need to learn how to treat the Golden Chow with respect so they can play with him safely.
Children tend to treat bigger dogs, especially the fluffy ones, as teddy bears. The Golden Chow doesn't like that and will not tolerate being handled roughly.
You can get a Golden Chow once your kids are old enough to understand how to treat an animal properly.
Behavior towards strangers
Since you're getting a mixed breed, you have to read up on the characteristics of both types of dogs, so you'd know what their special needs might be. This will also help you understand his temperament.
You might have a tougher time training a dog that is part Chow for example, than you would expect since you're getting a dog that is part Golden Retriever.
Depending on what side of his parents dominate, your Golden Chow might either be extremely friendly with strangers or get nervous around them and keep his distance.
If you'd like to bring out his Golden Retriever characteristics a little bit more, you need to introduce him to lots of people, kids, and pets since he's 1 month old.
How a Golden Chow does with other pets/dogs
The Golden Chow will likely have the protective and territorial side of the Chow Chow parent. This means you will need to raise him around lots of other animals to make him as friendly as possible.
And if you're trying to introduce a new pet when the Golden Chow is a little bit older, it's best for the new dog to be of the opposite sex. This will save you a lot of trouble about him being territorial.
If you're lucky enough for the Golden Retriever side to dominate, your Golden Chow will make friends with any animal he sees.
Is a Golden Chow aggressive?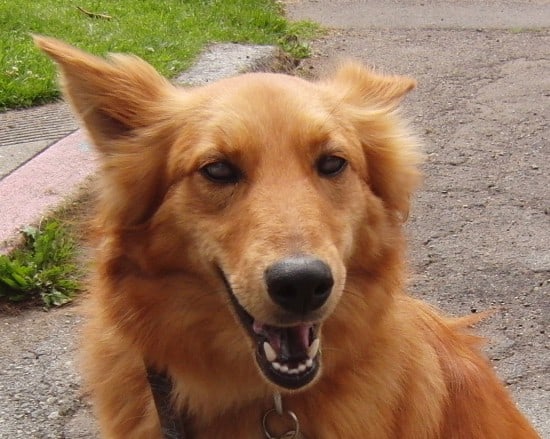 Golden Chows are a little bit more aggressive than the Golden Retriever, but nowhere near as aggressive as his Chow Chow parent. But regardless of which side of the parents wins, you can keep his aggressive side under control.
You will need to take him for various daily walks since he is just a puppy. This will give him the opportunity to meet countless other people and pets.
But if you'd rather have him a little bit more aggressive so he can serve as a friendlier watchdog than the Chow Chow, all you have to do is keep him away from strangers growing up.
Does it bark a lot?
Just like both of his parents, the Golden Chow is very vocal. However, he doesn't tend to respond to other dogs or bark at weird distant sounds.
Golden Chows are known to bark with purpose. This means that they will often only bark when a stranger approaches your home.
Golden Retrievers love all the attention they can get and they bark at anything. On the other hand, Chow Chows show affection by silently standing in one place and paying attention to real threats.
This means that at the end of the day it's a gamble. Most Golden Chows take after their Chow Chow side, but you never know.
Appearance and Grooming For Golden Retriever & Chow Chow Mixed Dog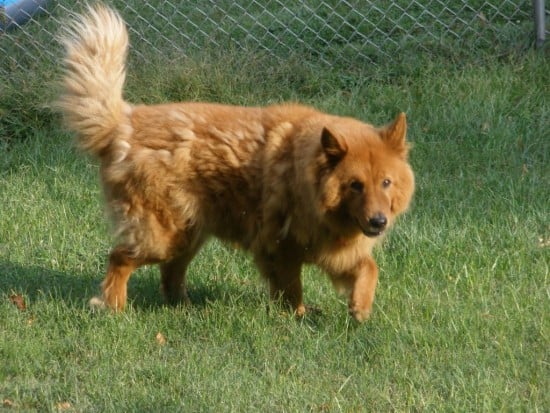 The most unique thing about this unofficial breed is that it often resembles a small lion. But since Golden Retrievers and Chow Chows are so different-looking, it's pretty hard to predict how your Golden Chow will end up looking like.
More often than not, you won't know exactly how your Golden Chow will look until he's an adult. They are known to drastically change their appearance from when they're puppies to when they're fully grown.
Both breeds have lots of hair, so you should expect it to be a problem. Shedding during summertime is normal, but not more than with a regular dog from these two breeds.
If you're prepared to deal with a furry dog, it's not a problem. Not a good idea for someone with dog allergies though.
How big does a Golden Retriever Chow get?
Golden Chows often remain around the same size as a Golden Retriever. This makes them a medium-sized breed. But it all depends on which of the parents' genetics won the domination battle.
They typically weigh between 50 to 75lbs (23 to 34kg). And their height can range between 20 to 25 inches (51 to 64.5cm). This makes them big guardians with golden hearts that can be a part of your family for years to come.
Mixed breeds are unpredictable, which means that you should prepare for anything. It's best to get ready for your Golden Chow to grow on the bigger side.
What does it look like?
One thing that all Golden Chows have in common is their short snout and drop ears. This makes them look more like a Chow Chow than a Golden Retriever.
Unlike the Golden Retrievers that have a happy and friendly aura around them, the Golden Chows have a more serious expression. This makes them look more protective and alert to everything that happens around them.
Chow Chows have blue tongues. This means that your Golden Chow might have a pink or blue tongue. But you should also expect him to have a pink tongue with blue spots.
Golden Chow's Appearance and color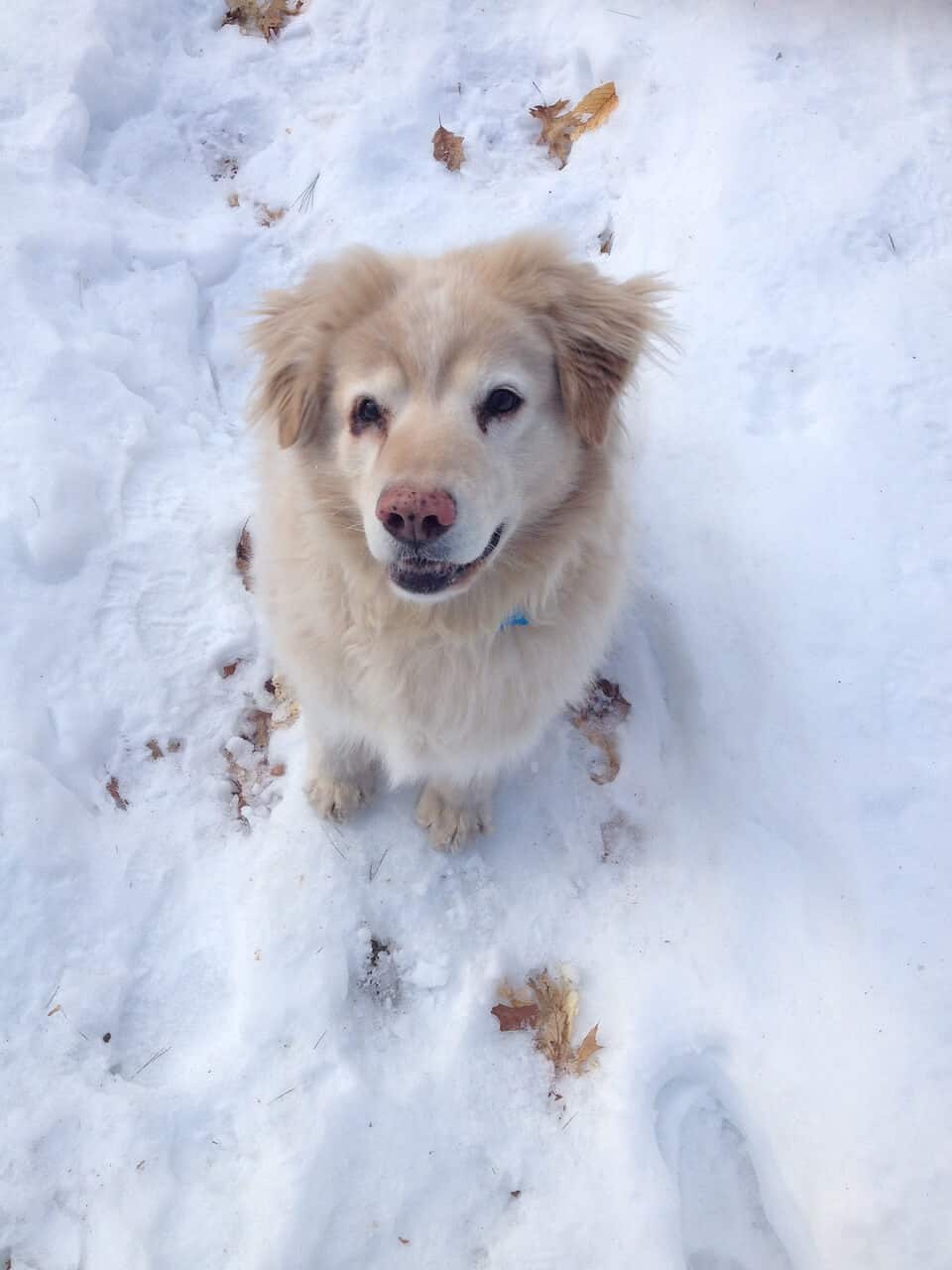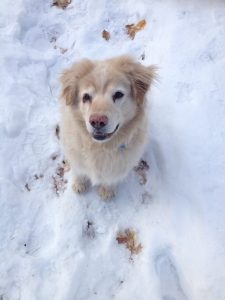 The coat color can vary, despite the fact that the breed usually has a golden coat. Some Golden Chows might end up with shades of black, blue, and even red. This is because of the big color variations found in both parental breeds.
Their lion appearance can be seen best in Golden Chows with fluffy fur around their heads, and a long but straight coat on the rest of their bodies. Between the two types of coats, there isn't a very big difference, but enough to give them their lion appearance.
Type of coat
When it comes to their coat type, Golden Chows have either a medium length coat or a long one. This greatly depends on the parents. Their fur will be typically straight or wavy and very dense. And unlike a Golden Retriever's fur, the Golden Chow's coat is not water-resistant.
They have a double coat which means you need to be very careful when grooming. But when their coat is kept short, their appearance quickly changes to an adorable but big teddy bear.
How easy it is to groom?
Golden Retrievers and Chow Chows both have a lot of hair. This naturally means that the Golden Chow will give you just as much work to do as their parents.
If you can't handle a lot of hair, you should stay away from this dog breed. You will need to brush him at least once a day. However, brushing him twice a day is ideal. This means that grooming him will take a little bit of extra time.
Golden Chows should never be shaved because it can damage their double coat. A wire brush can be used to remove extra hair from their undercoat.
Care Guide – Diet, Exercise & Health Issues
Golden Chows are big dogs with a fair amount of energy. This means that they need their daily exercise and are a bad choice for older people. A healthy dog needs a balanced life, especially one that has a parent that's prone to health issues.
Generally, Golden Chows are pretty healthy and can be an active companion to adventurers or a reliable and friendly watchdog for a family home.
Diet Tips: What does it eat?
Any big dog needs a lot of nutrition and the Golden Chow is no exception. You need to make sure their diet consists of mostly protein and fats with low carbs. Golden Chows need a diet that's as balanced as possible.
It's recommended to give them natural and organic food for them to have optimal health. Whole foods like meat and vegetables have their place in their diet as well.
The vet's recommendation is 3 cups a day on average. But you should always pay more attention to the calories contained by the food than the exact amount offered to your Golden Chow.
Exercise Requirements: Keeping a Golden Chow in shape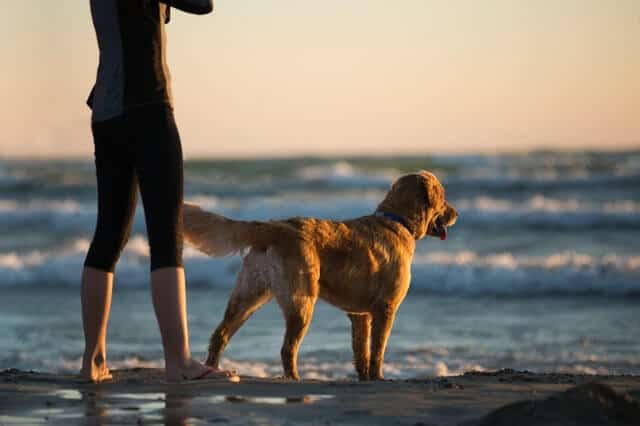 Golden Chows are not extremely active dogs, but they still fall on the active side of the spectrum. This means that they will quickly get depressed if they spend a lot of time laying in your apartment all day.
A Golden Chow needs to remain engaged and happy throughout the day, which requires regular physical exercise. Between 30 to 60 minutes a day of intense exercise is more than enough.
It's best to split the exercise time for morning and evening as the midday sun can be harmful to your long-furred friend.
Common Health Issues – Golden Retriever Mixed With Chow
Golden Retrievers are generally very healthy animals. On the other hand, Chow Chows are prone to many health issues. And the Golden Chow has the healthy body of a Golden Retriever but can still meet some problems over time.
Its vulnerability to genetic diseases includes him and elbow dysplasia, bloat, and cataracts. Most of these health issues can't be prevented. All you can do is inform yourself about the puppy's parents.
You can prevent bloating by offering your Golden Chow his food through a slow eater. This will force him to eat much slower. You can also give him smaller portions more frequently. And you should never let him exercise within half an hour after a meal.
If you don't have the resources to handle a less healthy Golden Chow, you should be extremely careful about the breeder you're getting your puppy from.
Training a Golden Chow
The training part is why these beautiful dogs are not ideal for inexperienced dog owners. While Golden Retrievers are extremely easy to train, the Chow Chows are a whole other problem. They tend to be very stubborn and won't listen to you even if they know it's wrong.
Chow Chows are more likely to listen to the Alpha. This means that if you don't have a leader's capability, you should stay away from these dogs. Golden Chows are always more likely to get the same stubbornness as the Chow Chow parent.
When it comes to peeing outside, Golden Chows are not a problem. They have larger bladders and they can handle holding it in for longer between potty breaks.
Obedience Training
When it comes to obedience, you'll have to enforce yourself as the Alpha as quickly as possible. Then keep going with positive reinforcement. Do not ever attempt to scold him by slapping him when he does something wrong.
Abused dogs are much harder to train and Golden Chows will quickly grow to hate you then they may retaliate later. Obedience should be done as soon as you get them as puppies so they can learn right from wrong.
The Chow Chows are not people-pleasing beings. This means that it's better to use a qualified trainer at first for your Golden Chow.
It's not a good idea to get one of these dogs and then ignore him. You have to pay attention to them and train them. Puppy proof your house as well and commit to making a good dog out of him.
Socialization
Being a mix of a withdrawn breed and an extremely social one, your Golden Chow's socialization skills may come as a gamble. But you can bring out the bubbly personality of the Golden Retriever parents with a little bit of work.
If your Golden Chow is as social as the Golden Retriever parent, you won't have anything to worry about. But if the Chow Chow gene dominates, you will have to spend a lot of time with him at social events. This includes around as many people, kids, and pets as possible.
Any Chow Chow mix will potentially require extra work when it comes to socialization. If you have experience with dogs is easier, so a Golden Retriever Chow mix is a better idea if it's not your first dog.
Get your Golden Chow to meet new people and dogs as soon as you get him, so you can avoid having a dog that is too protective when he's an adult.
Exercise requirements
Golden Chows need their daily exercise as much as you. They love playing games and going on walks. This is why it's important to give as much attention as possible and have a house with a garden they can play in.
A Golden Chow can remain occupied for a while if he has the right toys, but their favorite games are fetch and tug of war. They also love swimming and it's a great way to cool them off in the summer.
You should keep in mind that these dogs love going with you on jogs and getting fresh air. If you don't have time to do that or live in an area with a hot climate, you might want to consider another dog breed.
Breeding & Puppies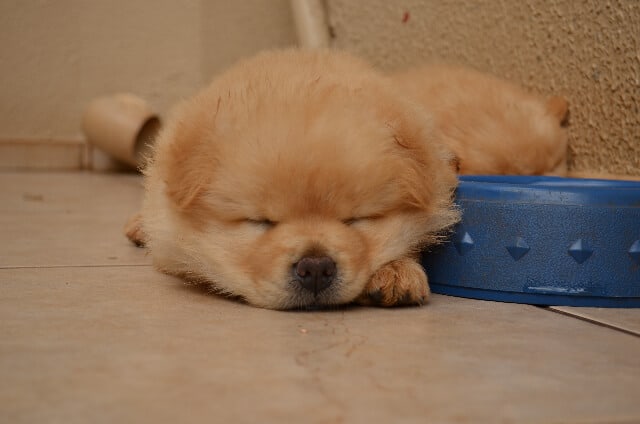 Breeding a Golden Retriever and a Chow Chow is something that only an expert breeder should do. Both parents need to have been purebred for at least 5 generations. More than that, both of them need to be perfectly healthy.
Golden Chow puppies are very adorable and tend to cling to you as soon as you get them. The way you treat them in the next few months will have an extremely big impact on what type of dog you'll have once he's an adult.
Finding a Golden Chow – Kennels & Pedigree
You should be very careful where you get your Golden Chow from, especially if you don't have the money to deal with a sick dog. Stay away from uncertified breeders that don't care about the animals they breed.
Golden Chows are not very popular, which means that you won't find one at a rescue center. It's not impossible but it's very unlikely. This means that you will have to find a good breeder that treats their dogs very well.
As mentioned before, Golden Chow is an unofficial breed as it's not pure. This means that it's not recognized by the AKC (American Kennel Club).
How much does a mixed Golden Chow cost?
A Golden Chow usually costs $500, which is an incredibly low price for a mix of two pure breeds. And this is a very good thing as owning a dog means making all kinds of investments every month. This includes food, toys, medical care, etc.
If you find Golden Chows that are a lot more affordable you need to be very careful about who you're getting your puppy from. Breeding a healthy pair and taking good care of it means putting a bigger price tag on the puppies.
History & Origins of the mixed Golden Retriever Chow
The only thing a Golden Retriever and a Chow Chow have in common is the fact that both of them are dog breeds. They are often considered to be polar opposites of one another.
Golden Retrievers were bred in Scotland in the 1800s by a hunter named Lord Tweedmouth. His goal was to get a dog that can go with him on hunts and retrieve the prey. Hence the name Golden RETRIEVER.
He tried to breed a dog that has a very strong nose, is great in water, and can be easily trained. Its Golden name was offered because of its friendly and loving personality. The breed was officially recognized in 1911.
On the other hand, the Chow Chow is one of the oldest dog breeds in the world. It came from Mongolia and China and was used for hunting and guarding. The breed was officially recognized in 1903.
It's very common for mixed breeds to have an undocumented history, and the Golden Chow is among them. Most people suspect that the mix first emerged in the 1990s.
And despite the fact that it's not recognized as an official breed, Golden Chows are increasingly popular all over the world.
Conclusion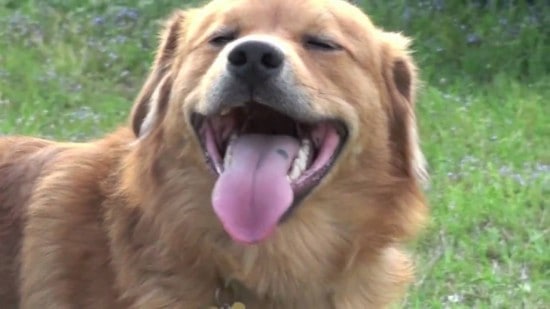 Golden Chows are the perfect mix of an incredibly smart and friendly breed and a less intelligent but very territorial breed. This makes it best choice for confident people that need a friendly dog they can take on adventures, but can also protect them.
When kept as a family dog, the Golden Chow needs a lot of attention and hates to remain outside alone. This means that you need to be willing to let the big furry dog live inside your home. And it's best to only have older children around.