We hope you love the products we recommend! Just so you know, SpockTheDog may collect a share of sales or other compensation from the links on this page.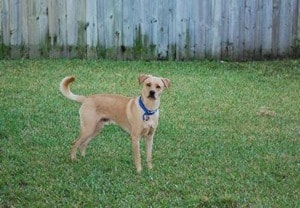 The Labrabull, which is also known as a Pitador, is a mixed dog, a combination between parents of two different breeds, in this case between a Labrador Retriever and an American Pit Bull Terrier.
Mixed dogs are characterized by their uniqueness, due to the combination of physical characteristics, temperament, health issues and intelligence which comes from two different breeds.
When you're getting a Labrabull (or Pitador if you prefer the name), you're never really sure what you're getting. You can get a general idea of their physical appearance, since even as puppies they might display signs of being closer to one breed or another, but as far as health goes and even their temperament, those can be unknown quantities at this point.
Because the genetic legacy of both parents will influence the Labrabull in one way or another, we'll cover below the characteristics of both sides, specifically where they are similar and where they differ.
Quick – Pros & Cons of the Labrabull / Pitador
Not all dog breeds are the same, and it's completely normal, as each one has a different heritage. They've been bred for different purposes, and once you mix in two different pure breeds together, the results can be even more interesting.
Before we get into details about the different aspects related to this breed, we will give you a quick list of pros and cons, to check out if you're in a hurry.
Pros of the Labrador & American Pit Bull Terrier Mix
Very intelligent.
Very easy to train.
Little grooming required.
Doesn't drool a lot.
Doesn't generally have a bad odor.
Very friendly with children.
Good with elderly people.
Can be a good watchdog.
Can be trained as a service dog.
Cons of Labrabulls
Has separation anxiety, not recommended to be left alone.

Doesn't do well around other dogs or cats, best if it's the only pet in the family.

Can be stubborn, not great for beginner dog owners.

Potential to run away, has strong wanderlust.

Better for houses with backyards, less so for those without fences or in apartments.
Labrabull (Pitador) Recommended Products
These are products that you could need for your new Labrabull (Pitador), or for other medium to large dogs in general. These are all high quality and recommended by those that bought them in the past.
Labrabull's Appearance and Behavior
The Labrabull's size will vary in height between 20and 24 inches, with a weight between 45 and 90 pounds. Females will typically be 20-22 inches, with 45 to 60 pounds, while males tend to be bigger, between 22 and 24 inches, weighing in between 75 and 90 pounds.
It's an average sized dog, a bit on the large side when it comes to males perhaps. Keep in mind, the two breeds that contribute here can have different sizes, so a small female can be at only half the weight of a big male.
Both breeds have a short coat, which sheds moderately and doesn't require a lot of grooming from the owner.
Depending on the breed which is dominant in a particular dog, there are all sorts of possibilities when it comes to its appearance:
Eyes can be colored Brown or Hazel.
Nose can be either Brown or Black.
Coat can have a variety of colors, including Black, Gray, Brown, Silver, Cream, Fawn or Brindle.
Coat is typically quite Short and Sparse, with Straight Hair.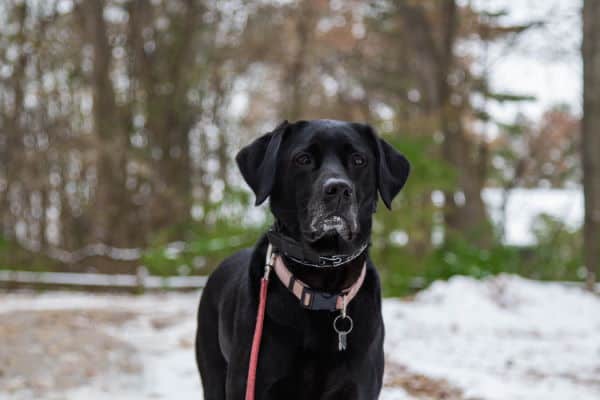 Breed Maintenance and Grooming
As you can see from the description above, the Labrabull tends to be fairly low maintenance. It's got short hair, it's not very dense, and it's straight.
All you need is to pick up a bristle brush, and use it on his coat about once each week. This removes the dead hair.
Bathing is not required on a regular basis, but you can do it from time to time, to get rid of any odors. Another option is using a dry shampoo, which removes odors and cleans, coming as a foam which is much easier to apply than it would be to give him a bath.
Another aspect of the grooming process, is paying a bit of attention to his general well-being. Check the ears in particular, see if there are signs of an ear infection developing. If you notice redness or an odor, it might be time to take him to the vet and prevent any issues from developing further.
Nail trimming is a good idea, and you can tell when you should do it, by the fact that you can hear the nails hitting the floor, when he's walking (typically every 2-3 weeks).
Teeth brushing should be done every 2-3 weeks as well, and this gets rid of potential dental issues, while also having the benefit of removing bad breath. It's not something that the dog accepts if he's not used to it, so do it while the dog is young, even more often then so he becomes accustomed.
Behavior and Temperament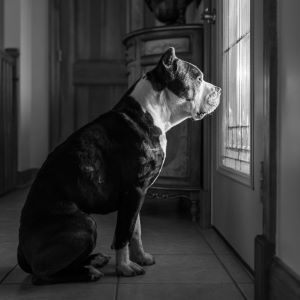 The Pit Bull is not much of a barker, but the Labrador does have a bit of a tendency to do it, so your new Pitador might or might not enjoy barking a lot while you're sleeping.
As far as friendliness goes, the Labrador is well known for his love for all strangers, but the Pit Bull is a bit more reserved, though still friendly overall. The Labrador doesn't need to be the dominant one, but the Pit Bull on the other hand is quite dominant, and needs training in this regard while he's still a puppy.
Is the Labrabull a family/pet friendly dog?
The Labrabull should do well with kids, especially if he takes from the Labrador side of the gene pool more. Either way, it's a mixed breed that does well around children, provided that you don't have other pets around.
They are also great dogs for elderly people, they can get along very well, and the temperament is right.
As far as other pets go, the Labrador side might do OK with them, but if he inherits from the Pit Bull, you can expect a lot of aggressiveness towards other dogs of same sex, and towards other types of pets.
If you do own other dogs or cats, a Labrabull mix might not be a good idea, at least if it's an unknown quantity as far as temperament is concerned.
Is it a hybrid dog that everyone should get?
Recommendation: it's best if it's the only pet in the family. Furthermore, I wouldn't recommend it to a beginner, since it can be stubborn.
Both breeds are easily trainable, with a bonus in this area for the Labrador, which is a pleasure to work with.
Both breeds can be raised in apartments, as long as they get plenty of exercise. Either way, if they're kept indoors, you can expect them to be active.
Both breeds can do well in areas like agility or competitive obedience, and they are likely to enjoy activities like hunting and tracking (retrieving as well for the Labrador). They can be watchdogs as well.
If we talk about a dog having a natural aggressive behavior, then it necessarily needs socializing and a lots of training. This training's main goal is to teach the dog to be obedient to an owner.
It's not acceptable for a dog to jump on people, that's why it needs to be reined in.
As to positive reactions of the dog, when you see something like that you need to know your dog should be rewarded immediately with praises and different treats. Labrabulls are great playing partners for your kids, as long as they grew up being surrounded by children.
Can it be a good service or therapy dog?
The Labrabull can also be a good service dog, if it's properly trained to assist people with disabilities (diabetes, mental disorders, visual or hearing impairment, mobility, seizures).
That being said, it's not a good therapy dog typically.
How likely are they to roam or wander around?
You can have issues with Labrabulls, when it comes to their impulse to wander away from home. Running away is a potential issue, so it's not the type of dog you'd want to give free reign to. It's a better choice for people with apartments or fenced yards.
Unless you train them properly to come back when they're called, make sure to keep them on a leash when you're taking them out for a walk.
Are they likely to chase prey? How is their prey drive?
This type of dog can have a medium prey drive, so it might run away after small animals, but it's something that you can get control over, with proper training.
Can you leave this type of dog alone for extended periods of time?
This is not a dog that you would leave alone for long periods of time. They're going to have separation anxiety, due to a close bond which is formed with its owner. It's better if they're part of a household that more often than not has a family member around.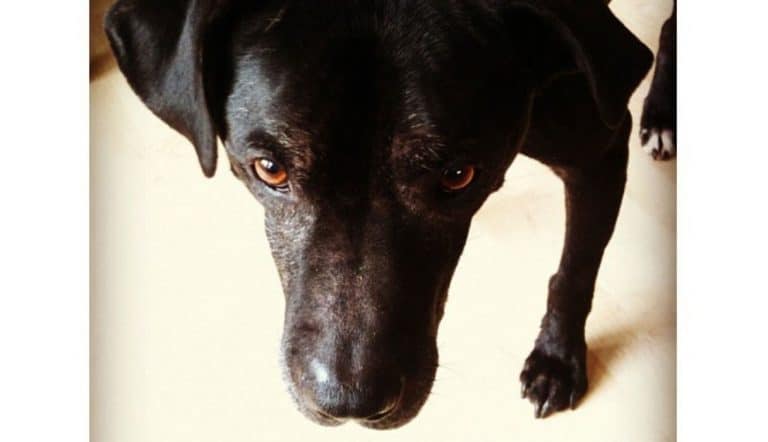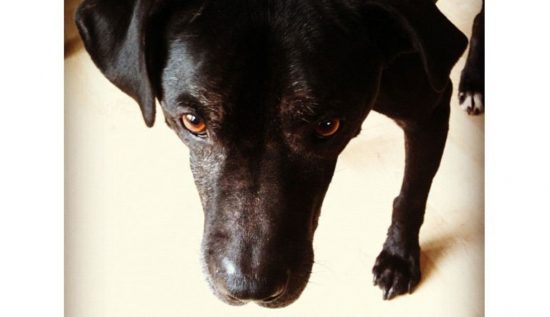 Possible Health Issues of a Pitador / Labrabull
When you take the two contributing breeds and their potential health issues, there are a couple of potential problems that they share. This means that the odds of a Labrabull getting those particular health problems are higher.
Among the common health problems that this hybrid can get, you will find:
OCD
Bloating
Epilepsy
Hypothyroidism
Not as common, but sometimes still an issue, would be less likely health problems such as:
Hip/Elbow Dysplasia
Moist Dermatitis
Allergies
Ear Infections
It's recommended that you check on occasion the dog for issues regarding hips and elbows, along with ear infections.
How much exercise and walking does a Labrabull (Pitador) need?
For such a dog, it's a good idea to make sure he gets plenty of exercise. It's an active breed, and they need it in order to stay healthy and at the right weight, but you can still keep it in a a big apartment or a house with a backyard.
You should still walk it daily, even if it's in a backyard, and generally it's the type of breed that will work well for someone that has an active lifestyle. This is not a dog to keep on the couch all day.
It's an active dog, which doesn't sleep all that much.
How long can you expect a mixed Labrador Retriever & American Pit Bull dog to live?
All that being said, the Labrabull tends to be an above average breed where health is concerned, and it has a life expectancy of 10 to 14 years.
Is the Labrabull a hypoallergenic breed?
A Labrabull, even though it's a race with short hair, is not going to be a good fit for those with allergies. The issue isn't exactly with the amount of hair that a dog has, but rather with the dander from its skin, or with the saliva it produces.
How careful do you need to be, to keep the dog's weight in check?
Labrabulls can become obese if they're not fed or exercised properly, but it's not a huge risk for them. It's more of an average amount of risk, so you should still be careful, just not obsessed with it.
Feeding him good food, and in the right quantities, and then walking him regularly, should be enough to take care of that.
Pitador Puppies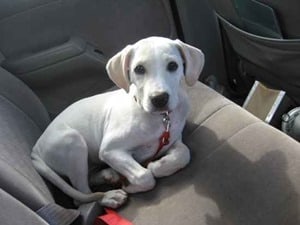 When looking at puppies that are mixed between an American Pit Bull Terrier and a Labrador Retriever, you can already see some of the characteristics that will dictate how the dog will look like as an adult. You might also see the playfulness of the Labrador, or the dominance of the Pit Bull.
The Labrabull puppy should begin training at a fairly young age, especially when it comes to his issues of dominance and obedience. The puppy should be fed with appropriate food and if it's not super premium kibble, the diet should be supplemented with vitamins and calcium, according to the vet's advice.
How long does the Labrabull's pregnancy last and how big is the litter size?
Though it's possible more often, it's recommended for the female to have only one litter per year. This can be a big issue if you get a dog from a puppy mill, so if possible do check the conditions in which the mother is kept and her general state.
It will take about 60+ days for a full reproduction cycle. There is a certain time period, in which the bitch allows mating. This happens about twice per year.
The size of the little for this type of dog is typically between 6 and 10 puppies.
A Bit of History For This Hybrid
The popularity of the Labrabull has been true only for the last couple of decades, ever since mixed dog breeds have started being more appreciated by owners.
The parent breeds have been a focus for breeders for a lot longer though.
For example, the Labrador Retriever has been around for a couple of centuries now, being traced back to Canada's Newfoundland region. Among the breeds which make up its heritage, we find the Newfoundland dog and various water dogs from that region. As the name implies, it was a hunting dog originally, which retrieved birds.
As for the American Pit Bull, this dog was bred as a bait dog, and then used on farms and as a guard. It can be a hunting dog as well.
Pictures and Videos of Labrabulls
Here's another picture of a Pitador /Labrabull mixed dog.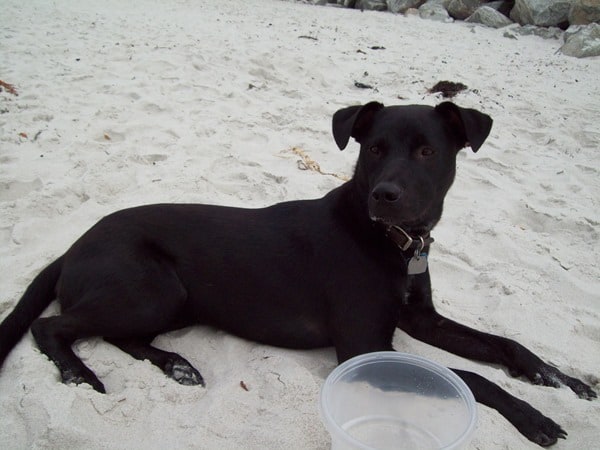 And here is a video with a Labrabull dog, if you want to see one moving around.
Labrabull Images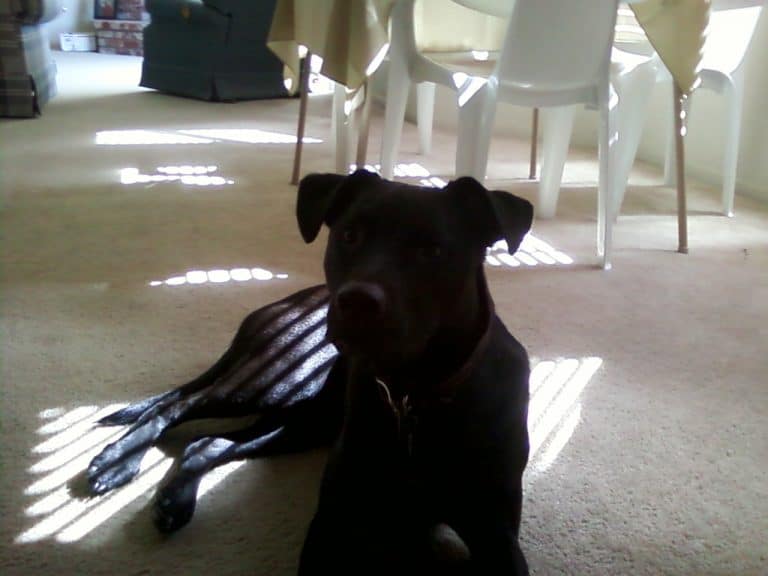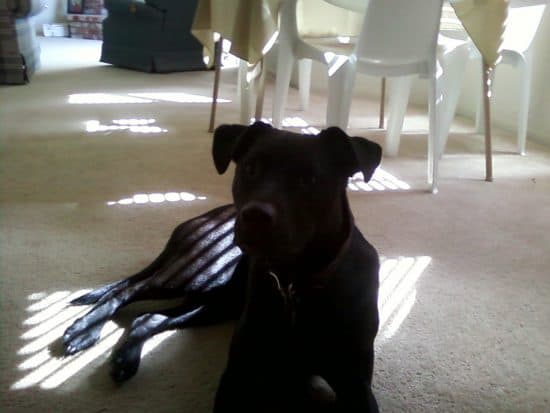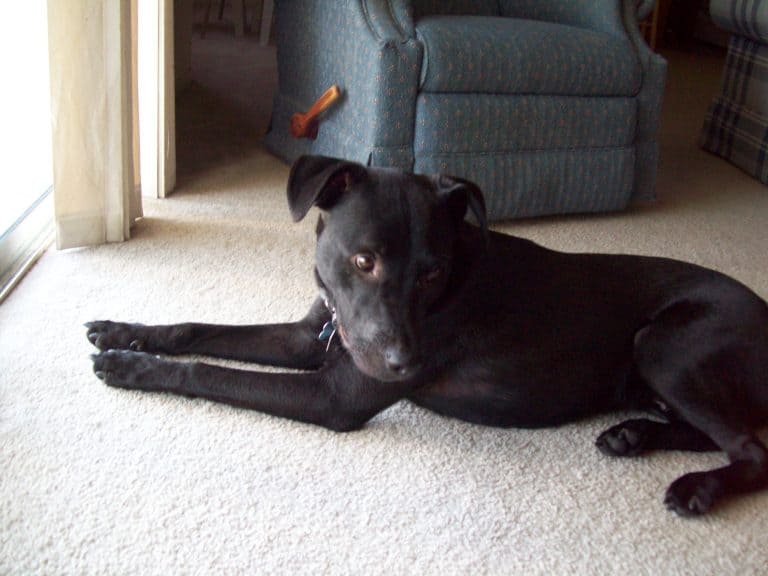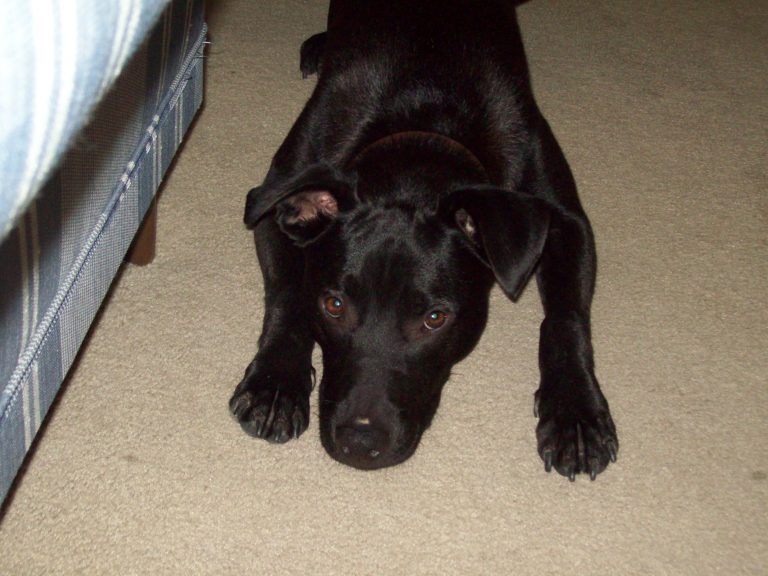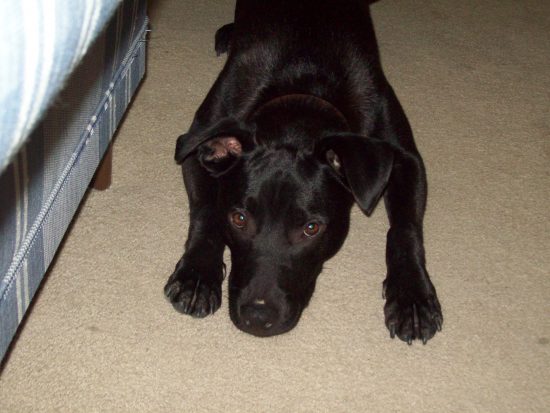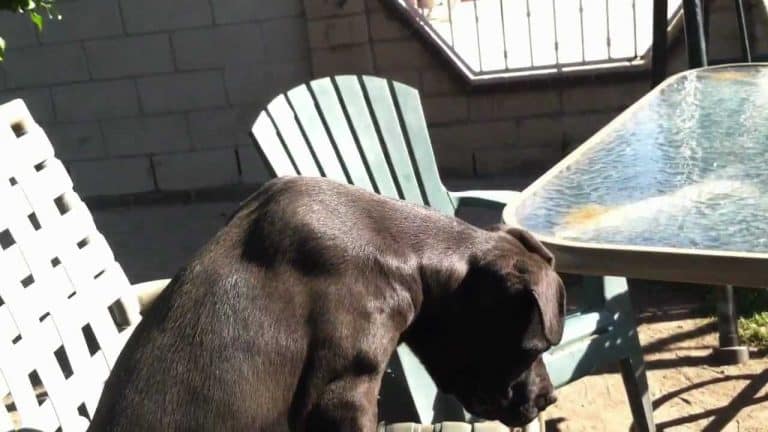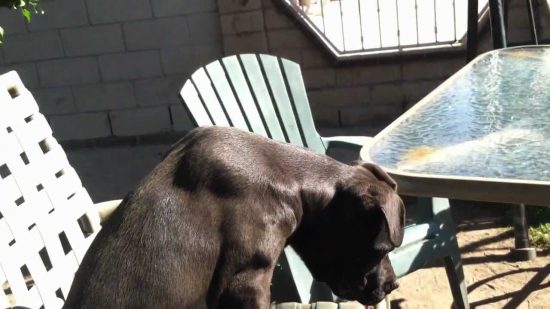 General Information on  Labrador/Pitbull Mixes
Labrabulls are very nice dogs, which have fur colored in black, white, brown or yellow. Usually, their coat is very dense and short. Due to their fine undercoat, this breed isn't able to resist to cold weather conditions.
If you are willing to become an owner of this beautiful breed of dog, you need to know it requires firmness from you and, most important of all, you have to be a very good leader in front of him.
As for their personality, Labrabulls need to feel like they belong to a pack, knowing that you are the leader of this pack. Because, if it doesn't, it will be really hard for you to manage the situation.
To not get bored and consume its energy, the Labrabull needs a lot of exercises and a very stimulating schedule. Otherwise, it may have a very destructive behavior and use its energy the wrong way.
For those of you wanting to register your pet, there are some organizations dealing with this problem. It isn't a requirement, but it might be an interesting idea especially if you are going to use the pet for breeding.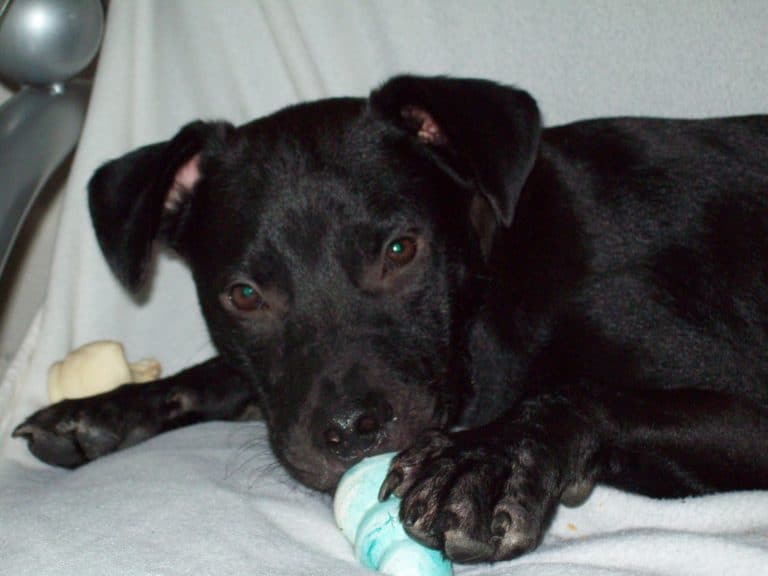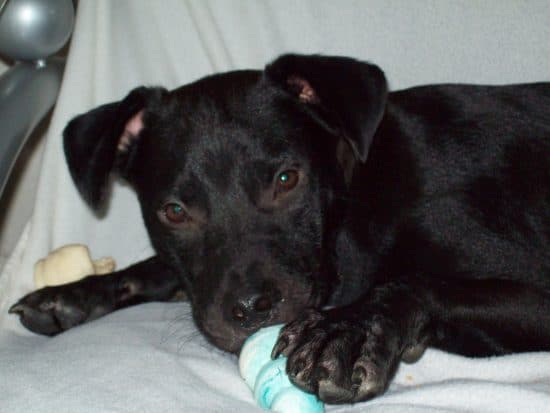 FAQ – Related Questions
Are Labrabulls/Pitadors dangerous?
The dogs are not dangerous typically, but if there are any issues with them, they need to be properly trained while they're still young. It's especially true if we're talking about the dog's behavior around other dogs, cats or other small pets. They're not recommended for families with other small animals, and their prey drive needs to be kept under control through training.
How much does a Labrabull cost?
The price of a Labrabull puppy can vary considerably. It might be a few hundred dollars, or it might go above $1,000. Part of that is going to be based on the dog's age, and whether it's a rescue or a puppy bred to be sold. If it's from a puppy mill, it could be cheaper, but because of the conditions in which they're handled, they might have health issues. Vaccines, vet visits and other costs all add up, so if the breeder handles the pregnancy properly, the puppies can be more expensive.
What are some of the other names which can be used to describe a Labrador Retriever & American Pit Bull Terrier mix?
The most common name given to this hybrid is Labrabull, but you may also hear them described as Pitadors, Bulladors, Pit-Labs or Lab-Pits.
What kind of organizations and kennel clubs will recognize this mixed breed?
While it's not recognized as a breed by the AKC or FCI, it can be registered with the International Designer Canine Registry, the American Canine Hybrid Club, or with the Dog Registry of America Inc.