We hope you love the products we recommend! Just so you know, SpockTheDog may collect a share of sales or other compensation from the links on this page.
Common Name: Bolognese
Other Common Names: Bichon Bolognese
Scientific Name: Canis familiaris
Origin or Range: Italy
Relative Size: Smaller Than Average
Average Lifespan: 15 year(s)
Compatibility: Relatively Non-Aggressive
The good natured, eager to please Bolognese enjoys snuggling, rough and tumble play with other animals, adults, and gentle children, and entertaining itself by such playful antics as tossing a morsel of food, a toy, or some other item it considers of interest into the air and catching it.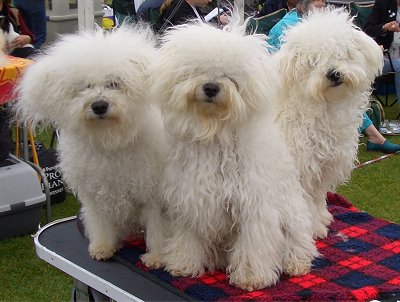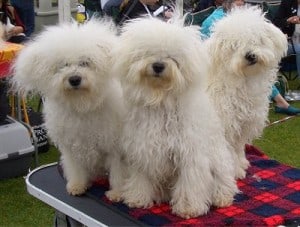 Bolognese is a very devoted and shows immense love for their entire family. They love getting kisses as much as giving them and will follow you wherever you go. This dog is fun without being too pushy and maintains a dignified discriminating air about him. Expect to be watched closely by this adorable companion for he must always know what you are doing and be part of it. One of his main goals in life is to charm his way into the hearts of everyone he meets, and he usually succeeds. Once this little dog has claimed you as his own, he will want to be with you as much as possible.
Because of this, the Bolognese does not do well alone for long periods of time. Bolognese are exceptional watchdogs with an excellent sense about people. Bolognese intelligence is obvious by their eagerness to please and ability to learn quickly. Adapting well to city or suburb living comes with ease to this little angel. To keep your Bolognese in high spirits regular walks and general exercise will maintain his good health.
Daily walks and brushing will help maintain that full, bouncy coat that turns heads and brings smiles to the faces of passers-by. It has taken until 1999 for the Bolognese to be allowed at Crufts, and that was in the Discovery Dogs section. Bolognese are not allowed to enter any classes other than special classes allocated to them and other very rare breeds classes called Imported Register classes. Bolognese is still considered very uncommon.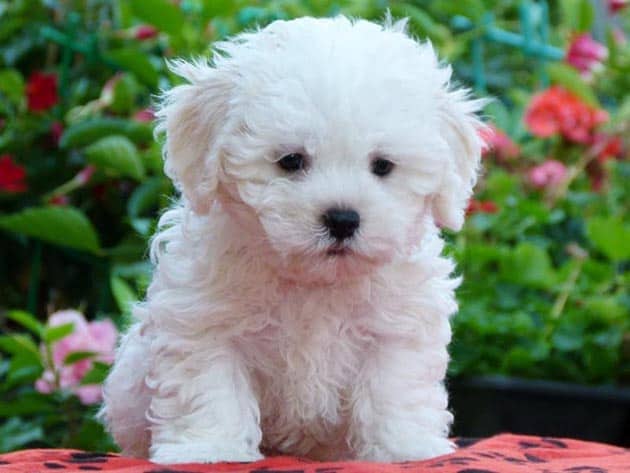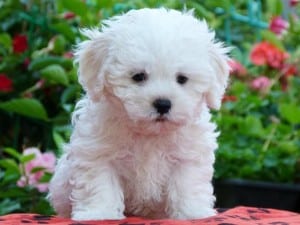 The very rare Bolognese belongs to the Bichon group and is also known as the Bichon Bolognese. This dog was sometimes referred to as a "lady's dog". The Bolognese is sometimes confused with the Maltese because its distant ancestors are the same. Their dense long locks of fur form the beautiful all white soft coat that you will love to bury your face in. This dog's hair is a mass of waves and curls that bounce in the breeze as the dog trots in his usual jaunty gait. The adult Bolognese will stand ten to twelve inches high and weigh between five and nine pounds at maturity.
It's no wonder this little canine was the preferred companion of the affluent of 13th century Renaissance Italy. During the Middle Ages, the Bolognese was bred in Bologna, Italy. The Bolognese ancestors were called "Melitensi" by Aristotle and were considered valuable by nobility and often exchanged as gifts. However, this dog's history is not all easy living. The Bolognese was also a working dog used on ships to control rodents. During the 1600s the popularity of this breed as a gift among nobility and wealth expanded the Bolognese popularity to Belgium and beyond.
The Bolognese neared extinction as the classes of nobility and commoners merged and formed a new society. The breed was restored in the early 1970's in Italy and in Belgium by an Italian woman who found the breed should be considered the "classic dog". Tapestries and paintings from the past demonstrate little change over the years in the characteristics and personality of this breed.
The Bolognese is an active little dog that requires daily exercise. This breed does not like to be left alone for long periods of time; they are best suited for homes where someone is not working outside of the home.
The Bolognese should be brushed daily to prevent matting and to keep his coat looking gorgeous.