We hope you love the products we recommend! Just so you know, SpockTheDog may collect a share of sales or other compensation from the links on this page.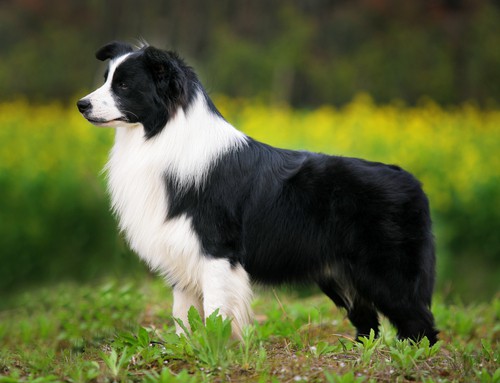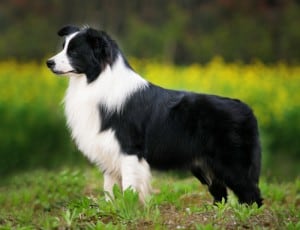 The Border Collie is one of about six breeds that came from the working Collie. The making of this breed tied in with wool trading and herding farm animals. Collie in old Gaelic meant useful, so these were useful dogs. There were rugged and hardy dogs that could deal with the austere weather of the border regions in England and Scotland.
These dogs were developed to work in hilly terrain. They were bred to be small and fast, which helped them herd livestock. Their white markings made them more visible after dark. The first Collies were very strong, handled stock too roughly, and were harder to control. Adam Tefler began in 1894 to breed Collies with a less rough nature and the desirable herding traits.
Beyond the World War I era, the name Border Collie was applied to this newer type of Collie, so as to differentiate it from the Working Collie. The original sheepdog trial was held in Scotland in 1873. The AKC gave the Border Collie complete membership in 1995.
General Looks
The Border Collie is a medium built dog that is agile. The eye colors are blue, brown, and amber. The ears can be erect or dropped.
Is This Your Breed?
This breed is known to herd whatever moves, so those owners in cities need to keep their dog leashed when outside of the yard. They are better with adults and older kids because of their herding instinct. This breed has a lot of energy and needs more exercise than walking. They are good at Frisbee, and Flyball. They need room to run. They need frequent brushing and shed seasonally.
Coat
There are two kinds of coats: rough and smooth. Each kind of coat has fur that clings close to the body resists weather, and is thick. The outer coat is coarse and the undercoat soft. The outer coat can be wavy or straight.
Color
The Border Collie can be solid or have two or three colors. Some of the colors are red, brown, Merle, brindle, and black.
Locomotion
The moving crouch and galloping are their trademark gaits.
Personality
These are smart, energetic, affectionate, and hard working dogs. They are reticent around strangers.
Border Collie Wallpapers