We hope you love the products we recommend! Just so you know, SpockTheDog may collect a share of sales or other compensation from the links on this page.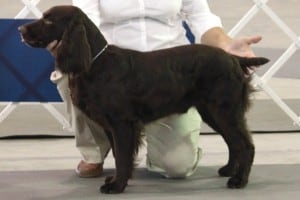 The history of the Boykin Spaniel began with a brown Spaniel sort of dog. Alexander White found this dog outside of a church in Spartenburg, South Carolina during the early 20th century. He took it home and on to his friend Lemuel Boykin. This dog proved to be a good hunter. Boykin began to breed Dumpy with a Spaniel named Singo.
Hunters needed a smaller dog like Dumpy that could fit well in the small section-boats used to hunt in the swamp and Dumpy fit the bill. Northerners coming to Camden, South Carolina on vacation to hunt paid to use Boykin's dogs. It is speculated that these other breeds were involved in developing the Boykin Spaniels: Cocker Spaniel, Chesapeake Bay Retriever, Springer Spaniel, and the American Water Spaniel. The Boykin Spaniel was dubbed the dog that didn't rock the boat, due to its medium build.
In 1977, the Boykin Spaniel Society was formed; they started to keep a studbook in 1979. They closed their studbook in 1982. The United Kennel Club recognized this breed in 1985. The Boykin Spaniel Club and Breeders Association of America was incorporated in South Carolina in 1997.
General Looks
This breed is a small to medium size dog. The ears are long and sit high upon the head. The top of the head is flat and wide. It is round on the sides. The jaw is very long. The nose is a liver tint and wide. The eyes are brown or yellow and are set broadly.
The coat is waterproof. There is an outer and under coat. The outer coat can be slightly wavy or flat. It is of medium length. The undercoat is short and thick. The solid colors are chocolate, liver, and brown. The toes and chest can have a bit of white. The gait is unforced and has good reach. The shoulders go back at an angle that promotes a good stride.
Is This Your Breed?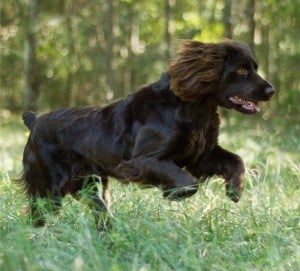 This breed is for an active owner or family. The coat needs brushing each week. Bath the dog occasionally. It is good with kids.
Personality
The usual Boykin Spaniel is energetic, friendly, smart, and trains easily. It likes to work. This breed flourishes with human friendship. It does fine with other dogs. It needs plenty of outdoor activity. It likes attention. This breed will play with children in the pool. They are best suited to an abode with a fenced yard. But don't leave it off of the leash by itself as it may take off following a scent. This breed may damage property, when its exercise requirement is not met.