We hope you love the products we recommend! Just so you know, SpockTheDog may collect a share of sales or other compensation from the links on this page.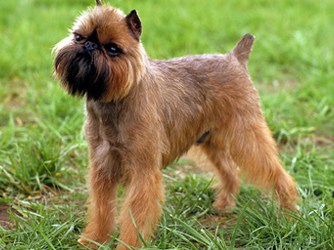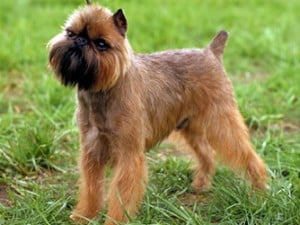 This breed originated in Belgium. Some people think that the stable griffin, King Charles, Ruby Spaniel, and Pug were mated to produce the Brussels Griffon. The unusual head shape of this breed could be a product of breeding with pugs. This shape is named brachycephalic. While others contend that the Affenpinscher and the stable griffon were mated. Griffons d'Ecurier means wire-coated stable dog. It has been speculated that the English Toy Spaniel and the Yorkshire Terrier were in the mix.
Van Eyck painted Brussels Griffons and this breed was in Belgian dog shows by 1880. Around the end of the 19th century, the Brussels Griffons was noticed by the royalty and Queen Marie Henriette began to breed Brussels Griffons. Her enthusiasm brought about a club in the U.S. and in Britain. The AKC recognized the Brussels Griffon in 1910.
General Looks
The thighs are muscular and the front legs are straight. It is a small dog with a square appearance. The small ears are situated high and the nose is black with big nostrils. The head is big, round, and dome-like. The lower incisors stick out above the upper ones. The face is fringed with fur.
Is This Your Breed?
This is a loving breed. It is curious and active It needs a walk each day. It is suited to living in an apartment. It needs regular brushing and a trim every 12 weeks.
Coat
There are two types of coats. The rough coat is thick and wiry. The smooth coat is straight, short, and shiny. The colors are beige, red, and black with tan.
Personality
The Brussels Griffon is smart, attentive, sensitive, self-confident, and playful. It gets along with other pets and older kids. But the kids need to participate in the dog's training. It enjoys barking and can be slow at house training.