We hope you love the products we recommend! Just so you know, SpockTheDog may collect a share of sales or other compensation from the links on this page.
This breed's origins are in Scotland's western islands. Its first name was Short-Haired Skye Terrier. It was a vermin killer on Scottish farms. They flushed the rodents from stones that were border markers and grave markers. The piled stones were called cairns. The Cairn Terrier got its name belatedly in 1912. The AKC gave it recognition in 1913.
Is This Your Breed?
A Cairn needs obedience training. It is affectionate, but will see what the owner's limits are. They have a strong instinct for digging and running after small animals. The Cairn Terrier needs regular exercise. It should be brushed weekly and the fur stripped or clipped several times a year. They don't shed much.
General Looks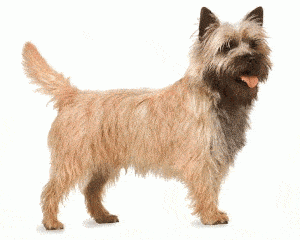 It has a shaggy dog look. Its coat may change colors as it grows older becoming darker or a sliver shade. The head is short and wide. Its ears are set wide. It is a small dog.
Coat
They have a double coat. The outer coat is hard and abundant. The under coat is soft and close to the skin. The colors are cream, black, red, silver, and brindle.
Personality
These are smart and faithful dogs. They are active even when older and playful. It is strong willed and sometimes stubborn dog. It enjoys barking. It needs an owner that can be firm, fair, consistent, and affectionate. They don't do well around guinea pigs and hamsters; they see them as prey.