We hope you love the products we recommend! Just so you know, SpockTheDog may collect a share of sales or other compensation from the links on this page.
What should you feed your toy dog? A Natural Dog Food can be either dry or wet. Some prefer the balanced composition of commercial products, and others prefer to use home made, especially for toy breeds. If you decide on a commercial product, it might be a good idea to look for organic. After all, your pet is only going to eat small quantities, so organic or natural will not be too expensive. Also, some of the additives in some commercial brands could be unsettling for the more sensitive breeds.
Dry or wet natural dog food? Your pet will get more value per portion out of the top quality dry products, but you might find he's not happy about eating it. So a good quality pouch or can will be a viable alternative. Here again, organic food could be a good choice.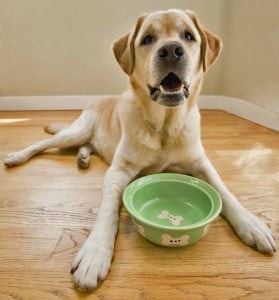 How about home made? Well, although your pet will certainly be more attracted by something you eat yourself, is it really going to be balanced enough for him? There are some excellent home-made natural dog food recipes around, but you have to be sure you have the time to prepare regularly in order to keep his meal fresh. It might also be difficult to check quantities.
However, there is a good e-book by John Miller, 245 Healthy Recipes which gives a good selection of healthy home made recipes.
Now where to buy your natural dog food? You'll need to find one your pet likes (smaller breeds can be a bit fussy!).
Always go for top of the range natural dog food. Your pet is tiny and needs high quality meals so he can get the best out of the small quantities he will eat. Once you have decided on a brand, you can buy larger quantities either from your local store or vet or through the internet. Home delivery does sometimes have advantages! Don't get your bags too big. It will go stale before you get to the end.
How much will your toy eat? This depends on the weight of your pet, and most reputable brands of natural dog food have quantities on the pack. It also depends on how active your pet is. A sleepy couch potato is obviously going to need less that a mini whirlwind whizzing over an agility ground.
Common sense is a big thing here. In all cases, split their meal into several portions of natural dog food per day. They can only eat very little at a time, and need several meals get the daily quantity right.
Do be careful with the treats. It's so hard to say 'No' to your tiny pet. But remember the grossly overweight little Chihuahuas that are often seen! These most usually don't eat their regular meal and are overfed on treats to compensate. If your pet has got himself a little tubby, you might like to try some of the specific diet products around.
If you are training your pet and want to reward him, there are some excellent organic and non-fattening treats out there such as these rawhide candy sticks. Here again, if you are feeling adventurous, you can make your own dog treats following the recipes in Justin Bryce's book Dog Treat Recipes.
So be careful with your choice of natural dog food. Whatever you choose, there is no absolute right or wrong. Use common sense and observation, and just make sure your little friend is feeling and looking good. If he's bright eyed, attentive and with a good coat and skin, chances are you've got it right! Small breeds age better than the larger dogs, and with natural dog food your pet will reward you by staying fit well into old age.