We hope you love the products we recommend! Just so you know, SpockTheDog may collect a share of sales or other compensation from the links on this page.
If you're looking to buy a new dog for your family, chances are that you've considered pretty much every breed out there. There is one possibility that a lot of people don't consider though, and that's getting a hybrid dog, a mix between two purebreds, which might come from a rescue, or it might come from a breeder that specializes in these breed combinations.
A hybrid dog can sometimes be a bit unpredictable in its attributes, since you never know for sure from which side of the gene pool he'll get this traits, but it often is a better dog than his parents. One reason for that is the fact that the purebred's genetic material is somewhat limited. A hybrid doesn't have that problem anymore.
Below, you can can read what the top 3 hybrid dog breeds are, and the reasons why they are in demand. You will notice that the Poodle is quite important when it comes to hybrid designer dogs, the main reasons being the fact that they're hypoallergenic and extremely intelligent.
Labradoodle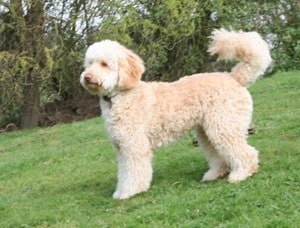 The Labradoodle is a hybrid between the Labrador Retriever and the Poodle. If you want a very playful pet that is also very intelligent and easy to train, the Labradoodle might well be your best choice. T
here is a good reason why the Labrador Retriever is a dog that is loved by a lot of people, and when you combine it with the Poodle's qualities, you really get a great dog.
Goldendoodle
Another dog that uses the Poodle as part of the equation, the Goldendoodle is a hybrid which is part Golden Retriever, part Poodle. Just like the Labradoodle, this should result in a great looking dog, very intelligent, playful and with plenty of energy to spend. As the name suggests, he loves to retrieve things, so playing catch is one of the best games for him.
Pomsky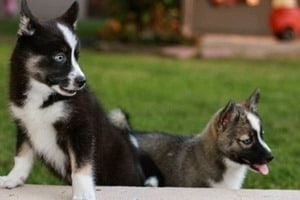 This dog is a combination of a Pomeranian with a Husky. The result is a small to medium sized dog, which can be a great looking pet, and a favorite for many.
You might get a stubborn little dog that doesn't want to learn, mainly thanks to the Husky part of the hybrid. It's a very popular dog though, so it made the top 3 on our list.
Do you think there are other best hybrid dog breeds that are more worthy of being in our top 3 list?