We hope you love the products we recommend! Just so you know, SpockTheDog may collect a share of sales or other compensation from the links on this page.
Have you just purchased a new puppy and now you want to know how to house train a dog? Housebreaking your new puppy is the most important thing he needs to learn. The best time to start housebreaking your new puppy is when he reaches the age of 8 to 12 weeks old. Most breeders and many states have laws against selling pets at to young an age to leave their mother. Make sure you check the birthdate on the AKC dog papers or if getting your canine from a shelter find out as much information as you can about the breed and age.
So can you really potty train a puppy in just a few days? In many cases, you'll find that puppies are very quick learners and it won't be long at all before he soon picks up on going outside to the bathroom. You should not try to housebreak a puppy that is under the age of 8 weeks. At that early age, it is to difficult for the puppy because his bladder control is weak. Ask the breeder to hold the puppy for you. Most breeders do this and supply you with a receipt for your deposit – ask also for the AKC papers unsigned as a guarantee – the breeder will sign the papers when you return for your puppy. This insures you don't get ripped off by a seller.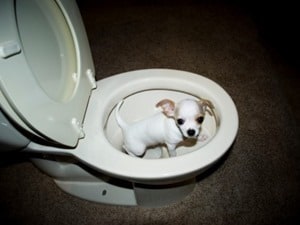 Usually young puppies tend to need to use the bathroom up to 8 times a day. Once your pup is a older he or she will have established bladder control and ask to got outside about 4 times a day.
Many people rave that the best way to house train your dog is by using a crate. Dog trainers also suggest using a crate in housebreaking your puppy. Choose a crate that is about 3 times the size of your dog when he is full-grown. Your dog's crate is his bedroom. Supply it with a bed or sleep area, newspaper to relieve himself and water. You shouldn't leave your pet in the crate for more than 2-3 hours without food. You may want to include an old piece of clothing so your puppy feels you are near. Crate training your puppy needs to be an easy and fun process for the puppy as well as for you.
It's no secret that your dog will respond better to praise than scolding. Many people have now heard of Cesar Millan his methods are a strong indication that man's best friend wants respect and love – treating your dog as a member of the pack is important and letting them know you reward them for their loyalty ensures you both have a happy life together.
What other things that you need to know on how to potty train your puppy? Creating a schedule so your dog knows what to expect helps you also. You will want to take your dog outside to doodle first thing in the morning, after each meal, and after waking up from a nap. If you work, include right before you leave for work and as soon as you get home. This is where the crate training becomes so handy. All you have to do is pick up the newspaper and lay fresh down. Of course let your dog outside first! Then as your dog gets older move the paper by the door when you are home. Be sure to 'show him' where it is. Leave the create door open when you are home so it can be his sleeping area.
After a while you can move the food out of the crate too. It's still a good idea if you are leaving the house for to place your dog in the crate until they are about 6 months old.
Another good method is to place the crate in the kitchen and put up doggy gates in the doorway area as your dog matures. This way you can have his food in the kitchen, the paper in the kitchen – perhaps by a door to the outside, and the crate. Once your friend is fully grown you may choose to give them the run of the house. If you do be sure you have also worked with obedience training.
So, can you really house train a dog in just a few days? Yes you can with patience and a few tools. Think of all the reasons you got a dog in the first place. Having a pet means being responsible for their health and safety. It also means having a best friend that love you as much as you love them.