We hope you love the products we recommend! Just so you know, SpockTheDog may collect a share of sales or other compensation from the links on this page.
Service dog training involves the training of a dog for specific purposes to assist someone in need either in the home or in public. There are several kinds of service dogs. Mobility assistance and seeing-eye are the most recognized. In recent years, there has been an expansion to include seizure alert, hearing assistance, emotional therapy, and autism assistance.
Service dogs are not pets and are true working dogs. Thanks to The Americans with Disabilities Act of 1990, a service dog is allowed to accompany his handicapped owner into any public place. A business cannot refuse access to a service dog, and while the business may inquire as to what tasks the dog assists with, the business cannot directly ask about the owner's handicap.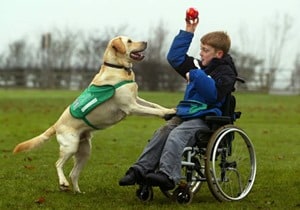 Service dogs often provide a great ice breaker with the public. While people are generally welcomed to ask questions about a dog's service, petting a working service dog is a big no-no.
There is no certification for a service dog, but there are guidelines one should follow. First, service dogs have to have an excellent temperament. They should not be sound sensitive or anxious. They really need to be unflappable, and the majority of dogs don't have the nerves for it. Second, the training has to be spot-on. There is no room for a dog to have uneven training. Lastly, the main requirement is that a service dog be identified as one by wearing a vest and that the training be tailored to match the needs of the handler.
What do service dogs do?
Mobility assistance dogs are trained to work with those people that are wheelchair bound are those people who have issues with movement due to diseases like Multiple Sclerosis or Parkinson's. They do many of the tasks that are simply too difficult to do such as picking up objects that have been dropped, getting items off store shelves, answering telephones, turning on and off light switches, and opening and closing doors and cabinets to name a few skills. Service dog training for mobility sometimes also includes training the dog to pull wheelchairs and to hold steady for someone to lean against.
Seeing-eye dogs are the longest running service dog. They are specially trained to be the eyes of their handler. They have to use their judgment and skills to guide their handler where they need to go while avoiding dangerous situations. There are many stories of guide dogs that would not allow their handler to cross a street because they saw a stray car coming out of nowhere.
Hearing assistance dogs are trained to be the ears of their handler. Little dogs who like to bark like terriers make some of the best hearing assistance dogs. They are trained to alert to sounds like doorbells, smoke alarms, and phones.
Recently, there has been work done with training dogs for autistic children, seizure alerting, and emotional assistance but the training is not always as clear with these types, and not all service dog groups train these types.
Service dogs are obtained through two methods. The first method is to apply for a service dog through a program or qualified trainer. Most programs obtain puppies like Labrador Retrievers or Golden Retrievers either through quality breeders or their own breeding program. The fees associated with most programs are quite high because the time, energy, and expense in training a dog is immeasurable.
The other method for getting a service dog is to train one by yourself. Service dog training is a time-consuming task and can be difficult. Someone interested in training their own dog should seek the advice of a knowledgeable trainer. You have to know the right kind of dog and personality to pick for the greatest success. Not all puppies or dogs work out for service dog work.
Service dog training is done primarily with positive reinforcement. It is important to be as hands-off as possible while training because most service dogs will be paired with someone not capable of physically leading the dog. The training process uses a system of marking behavior with a word or clicker in order to shape a dog's behavior. This method works extremely well for very complex behavior. It is used for something as simple as a sit or as complex as the dog delicately picking up an egg.