We hope you love the products we recommend! Just so you know, SpockTheDog may collect a share of sales or other compensation from the links on this page.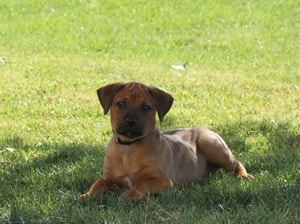 The Boxweiler is cross-breed between the Boxer and the Rottweiler. Both Boxer and Rottweiler are very popular breeds so finding a mixed breed dog between them should be easy. The Boxweiler combines the playfulness of the Boxer with the power of the Rottweiler. It is a super energetic and intelligent lively companion.Boxer and Rottweiler are excellent guarding and police work breeds. This trait is also present in the Boxweiler. It is a trustful friend who will also work for you as it can operate as a working dog and not just a pet, being able to assist humans in certain areas.
The Boxweiler can resemble any of its parents, remaining a large dog (21-27 inches, 53-130 pounds, and, usually, has a more Rottweiler-like face with dark eyes, a not so pressed black nose and floppy ears. It can have a black mask on its muzzle. Its double coat is thick, short and harsh, just like the parents have. The colors are more Boxer-like fawn or brindle but also any combination of black, white and brown. They are average shedder and they need moderate grooming and a weekly brush.
Boxweiler Recommended Products
These are products that you could need for your new Boxweiler, or for other medium to large dogs in general. These are all high quality and recommended by those that bought them in the past.
Behavior wise, this is a loyal, dynamic cheerful play-mate. They enjoy being close to humans and finding pleasure in outside activities whether it's a walk, swimming or just a ball game. It is important to be well socialized with other pets or kids as early as possible as, towards strangers, it can become a bit circumspect. They need to consume their bursting energy so a house with a yard would suit them perfectly. If kept in an apartment, they need daily exercise to keep them from getting bored and overweight.
Boxweiler's health is better than their parents. Still, it does inherit the snoring, hip dysplasia and deafness characteristic to large breeds but also it can get arthritis as they get older, especially if they are overfeed as puppies. Caution is advised in feeding Boxer and Rottweiler mix puppies human food, as it can lead to premature growth and easily breakable bones. Also they are prone to overheating if they are kept in sun for too long. A temperate weather suits them best.
Boxweilers will offer you company 11 to 15 years if properly taken care of. It's advised to choose your dog carefully because the ones that are white are more likely to be deaf and more exposed to cancer, and the brown and black ones are more prone to Canine Parvovirus. Boxweilers are good family dogs. Their joyful personality makes it wonderful with children, while being protective to its family and a good guarding dog not allowing stranger to enter home without the owner's approval.
Training these dogs requires patience and consistency. It is an intelligent dog and needs an owner who can be the leader of the pack. This way, from an early age, it will learn to listen and follow instructions.
Every Boxweiler is a unique combination and, in general:
– Need a yard and need a fairly amount of exercise
– Have some health issues, so be careful to choose a healthy one
– Need moderate grooming
– Are smart and trainable with patience
– A great fun dog for family with older children
Sources for photos :