We hope you love the products we recommend! Just so you know, SpockTheDog may collect a share of sales or other compensation from the links on this page.
Fiber in the diet of a human is considered to be important as it helps with many aspects of keeping our bodies running healthy. It is for this same reason why fiber in the diet of a dog is very beneficial. And as in humans, it is also important to feed you pet the right amount of fiber. This ingredient is slow to digest through the internal system. Too much fiber will have a nasty effect on the digestion and control of natural waste of the dog.
Fiber is a good ingredient to add to a dogs diet. It usually comes as a standard ingredient in many of the better quality brands of dog foods on sale. And it also occurs naturally in fruit and vegetables.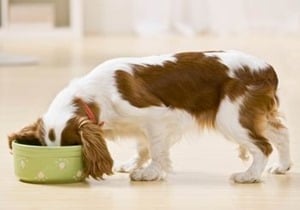 If you are trying to slim down your precious pooch, fiber will make your dog feel full while eating less so it is an excellent filler. But please do not think that is all you need for your dog to lose weight as we all know that the best results for weight loss need to include exercise.
As with all aspects of a dogs diet, you will need to research what amount of fiber will be best for your dog. Aspects to consider will include weight, height and the breed of the dog.
To find out the right amount, it is advised that you speak to your vet before introducing fiber into your dogs diet.