We hope you love the products we recommend! Just so you know, SpockTheDog may collect a share of sales or other compensation from the links on this page.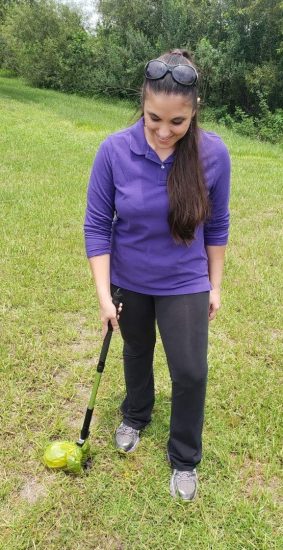 Dog owners everywhere know that picking up poop after your dog is not fun, but it's all part of the process, and it's not an optional thing for any of us. There are some tools out there which are designed to do a better job, and we try and help you out with them. Look below, to find the best dog waste pick up tools. You should also go check out our top 3 dog waste disposal containers, because that poop doesn't just magically go away.
It's not just a result of dog walking, that you're going to have to pick up the dog's poop. The same happens with the dog waste in your own backyard, because otherwise you just end up stepping in it and getting your shoes dirty.
Why use a dog waste pick up tool? Well, the idea of putting your hand in a thin plastic bag and picking up poop with just that very thin material as protection, might not be something you're very keen on. I know for sure that I'm not loving that idea. The alternative is a dog pooper scooper, a modern tool for a very old problem.
Top 3 Dog Waste Pick Up Tools
Excellent pooper scooper tool, designed to keep the tool clean, and you as well. The only part that touches the poop is the bag in which it will be deposited, so there is no cleaning required afterwards. Designed with both small and large dogs in mind, it has a telescopic handle (24 to 36 inches) and no bending is needed in order to use it.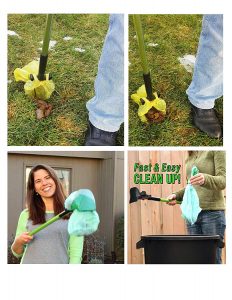 Innovative Design, Patented.
Clean and Sanitary, no cleaning required afterwards.
No Contamination Risk: only the bag has contact with the dog waste.
Poop goes in bag until it is filled, so you don't have to change it each time you go out. Save Money!
Any plastic bag can be used, but they have their own bags as well.
Telescopic adjustable handle, no bending over required. Save Your Back!
E-Z Wedge available separately, for use on very challenging surfaces (gravel, floors, pavement, grass)
The HEAPETBON Dog Pooper Scooper is a dog waste pick up tool which comes with a 24.8 inches handle, which is fixed. You don't get the telescopic handle that is available for the tool listed at number 1, but otherwise it is a very good tool, which works great on gravel, dirt or grass, and it's a cheaper alternative as well.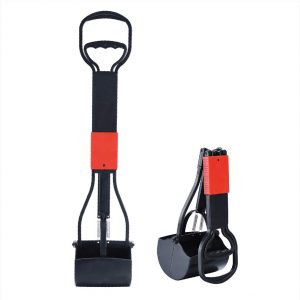 Length 24.8 inches: enough to keep your nose away from the poop and for the amount of bending to be at a minimum.
Ergonomic Design: the tool is designed to be easy to hold and use, has finger slots and a hanging hole for ease of storage.
Complete Seal: the jaw of the tool will seal 100%, so there is no issue with the stored poop.
Pick Up Anything: it's not just a dog waste pick up tool, it can pick up anything and store it 100% secure, thanks to its perfect seal.
30 Days No Questions Asked Refund: not happy with how it works? They will give you a full refund in the first 30 days of your purchase.
At number 3, we have another foldable Pet Pooper Scooper, this time from PPOGOO. Easy to store and move around, it folds and is ready to use immediately when needed. Whatever type of pet you have, dog or cat, you can easily pick up their poop with this tool.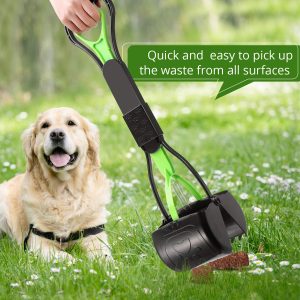 Foldable Tool: easy to carry around, it folds to reduce the size to just half of what it has at its maximum.
Easy to Use: operation requires only one hand, using an easy-pull handle. It's easy to both collect and release the dog waste.
Premium Materials: it's a very durable tool, designed to be used long-term, so you will have it for many years to come. Easy to rinse, it's using non-stick materials.
Works on most surfaces: it will handle well concrete, grass, dirt or gravel.
Advantages of Getting a Dog Pooper Scooper
Here are a couple of excellent reasons why you should have a dog pooper scooper, if you own a dog.
They can hold several days worth of poop that you collect in your backyard, so it needs cleaning up and emptying once every couple of days.
You use fewer plastic bags, or none, so your impact on the environment is less.
The easy to carry versions are great for getting out of the house for a walk, they will do just as good of a job there.
You don't have to bend over, which might be an issue for someone that has health issues and maybe issues with mobility.
What to Look For In a Dog Waste Pick Up Tool
The quality of a dog waste pick up tool matters. If it's easy to clean and use, then it's doing its job. However, there are several other things that you can look at, when you're selecting one, and we're mentioning them below.
What type of dog waste pick up tool do you need?
This is a major point to consider, whenever you're looking for such a tool. It's going to influence the way the job handles, and it is the most important aspect that you have to decide on.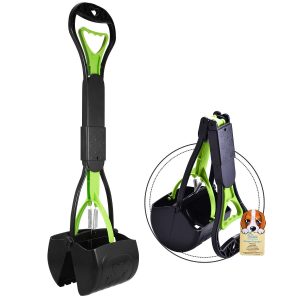 Jaw style: these are pick up tools which are usually fixed in height, used plastic for their material, and they can be easily used with one hand. A downside is that generally these don't adjust in height, so they're fixed in length. You pull the handle and the jaw opens, so you can pick up the dog waste.
Bin and Rake: this is a combination of tools, which you can use to do the same job. The two pieces work together, and they have more room for dog waste inside, but they are also less portable. I'd recommend these for your backyard, since you don't want to carry two tools with you when you're going to the dog park. Still, some versions are height adjustable and they can end up taking surprisingly little space.
Are the handles adjustable?
Those that don't want to bend over, due to comodity or back pain, should be looking for pick up tools which give you the option to adjust their length or which are long enough not to require that kind of movement. For going out, I'd recommend the telescopic variant, rather than the long one.
How lightweight is the dog waste pick up tool?
Once again, in some cases this matters more than in others. The dog waste pick up tools which are designed for use outside the backyard should be as lightweight as possible, while those you use at home can be heavier, since you pick them up only for a minute or two while you're using them.
Does it have a comfortable handle?
Comfort is something to consider, particularly if you use it for extended periods of time, or if it's a tool that you take with you when traveling with your dog. Choose a tool with a comfy handle, maybe something with rubber so that it's easier to use. It's also a good idea to have something softer and non-metallic for those colder regions, where it snows.
How easy is it to clean?
Another one that's fairly important, especially if it's a tool that you bring back to your house or if you take it with you, and not something you store in a shed, to be used only in the backyard. The simpler the design of the scooper, the better, since you want to avoid poop getting into small nooks and crannies.
What's the price like?
Depending on how simple they are, on the quality, design and the other aspects that we mentioned above, you might have to spend anywhere between $10 and $50+ on a pooper scooper.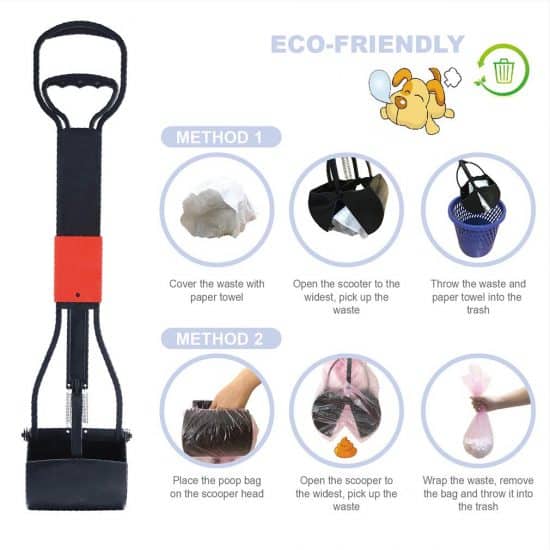 5 Quick Dog Waste Facts
1. A dog will typically poop about 0.75 pounds of waste daily, which means over 270 pounds over the course of a full year. Millions of tons of dog poop end up in the landfill on a yearly basis.
2. Dog waste is considered a pollution factor, and it's a potential health hazard as well. Picking up the dog's poop prevents it from getting into water supply or from getting other dogs sick. Since worms, parvo, salmonella, giardia and E. coli are all present in dog poop, you need to keep it away from other pets.
3. Biodegradable poop bags are a thing, and you should be using them. Make sure you use biodegradable poop bags. You're going to throw away hundreds of these poop bags over the course of a year. Buy ones that aren't made of plastic, even biodegradable one. Ideally, you would use the waste as compost.
4. Composting is possible with dog poop. There are special compost bins for this, so don't try and use the usual ones for this purpose. There are tutorials for you to build something like this, or you can buy one.
5. Flushing is the best way to deal with dog waste. As the EPA itself mentions, this is the ideal way to get rid of dog waste, same as with human waste. You do need to take the dog poop indoors for this, but one way to do it is through flushable dog waste bags.
Dog Waste FAQ
Where do you put dog waste?
Dog waste can be flushed down the toilet directly, can be placed in poop bags that are biodegradable, flushable poop bags, can be used for composting, or placed in various other gadgets and systems which will make use of it in some way (growing worms is a possibility). There are even septic tanks designed especially for dog poop storage.
Is dog waste compostable & good fertilizer?
The answer is yes, like any other poop, it will make for good fertilizer, and there are a couple different ways for you to achieve this. Composting is possible with dog waste.