We hope you love the products we recommend! Just so you know, SpockTheDog may collect a share of sales or other compensation from the links on this page.
Remember the days when your puppy or dog slept on a cozy blanket in the corner of your bedroom? Now days dogs just like people have their very own beds. The time of tossing a worn out blanket into the dryer and tossing it in a corner are gone. There are soft pads made just for your breed and size abound if bright colors and materials. My favorite is the fleece dog beds. These stylish beds are just like 'people beds'. There's the silky purple umbrella bed for the truly spoiled poodle, the natural maple varnished berth for the big-eyed friendly pug, even the orthopedic bed for the senior- aged Beagle.
Stop! before you rush out to buy a designer boudoir eating up several paychecks you may want to take a deeper look at the latest in designer fleece beds? Here are 5 of the most common things to know about these furry beds before you make your decision on what pet furniture is best for you and your friend.
#1: A Warm Bed to Sleep On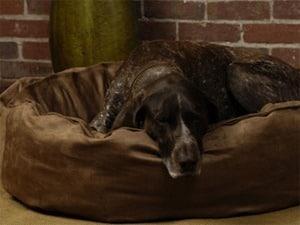 Have you ever seen a litter of puppies sleeping? Some times it's hard to tell one pup from the next as the snuggle together to conserve heat. When you bring your darling pup home she may be nervous, lonely and yes cold. She is use to a warm place to sleep that is comfortable. A fleece bed will keep her warm and are very comfortable. Fleece in general is fuzzy and mimics the feeling of sleeping once again in the pact of puppies.
#2: Fleece Beds Inexpensive Verses Expensive
Go ahead and pamper your new friend with a boudoir of a silky purple umbrella bed just make sure it meets your dogs needs and size before you invest about $200. Dog designer furniture today comes in colors to match your leash, collar, and even your canine's walking sweater or raincoat. But when it comes to the bed make sure it's meets the sleep test. Fleece fabricate do just that. They provide warmth, are comfortable, and last long. An added bonus is many are washable.
On the low end you can find a fleece sleeping pads for as little as $20 all the way up to $100. Some of the best sales are now days online where you can get a discount for ordering online and free shipping. These are small companies you'll have problems with should you want to return anything often they have a store near you – it's the online price that makes this a deal. And if you don't like what you get return it locally to the store.
#3: The Crate Test — Does It Fit?
Dogs love having their own den and the crate is a great invention that allows your dog to have it's own bedroom away from your home. Crates benefit you in that if you start crate training when you bring your puppy home you'll almost have them potty trained in one evening! This private space gives your pet a quiet, non-stressful vacation to Tahiti.
Pets are just like humans they need down time and some times just want to unwind from the day especially if you have a busy home. When shopping for your designer bed if you use a crate make sure it fits. You can once again coordinate these items by shopping online through the pet designer stores
#4: Step Right Up and Pick Your Favorite Color, Size and Shape
Sound like your country fair? No it's better! Selecting your dog's apparel and home furniture is like remodeling your own home and wardrobe closet. Depending on your breed you can choose from a round, square, closed-in or open-sided sleeping unit made in your favorite shade of green. Local pet store may be limited in creating a trendy format for style and color but don't let that stop you. Look online to find what you want as many breeds have their own style. Terriers have a special look that is far different from a boxer and you'd never want to put a Chihuahua in Daschund clothes! Even if you aren't going for the 5-star Hollywood look the sizes don't match up.
Reason #5: Did You Mention Washable?
Let's face it every time you wash your car it rains – right? Well every time you bath your pet they will find the most muddy or smelly spot to roll in and then come running to share their new scent with you and their sleeping zone. It's their way of marking territory. Yeah you belong to your pup just as much as she belongs to you and at this moment you start searching for the washing instructions hoping they say washable.
Most sleeping materials are made to be tossed into the washer and dryer but check labels first. Some simple and many high-end sleeping furniture require dry-cleaning.
In closing, your dog will need a place to rest and relax. Before you run out the door to spending hundreds of dollars on a special dog bed stop a second and plan your next move and consider the designer fleece dog beds for value comfort and warmth. They come in New York trend-setter styles, Hollywood glamour, to Mid-west home-grown simplicity.